General
SILVERNOISE Ltd. is a direct Music Agregator to all major legal online shops worlwide.

Music distribution:

We deliver music content to more than 200 well-known and established international platforms for legal music downloads and ringtone outlets: iTunes, eMusic, Amazon, Napster, Rhapsody, Digital 7, AOL, MusicNet, Beatport, Juno are just a few to name.

We also provide music distribution services for CDs in retail shops throughout Austria and Germany. Please be aware of the fact that today it is hardly possible to sell CDs in retail shops unless you are already a well known artist in your area. Therefore we recommend newcomers to start their career by delivering music first to platforms for digital downloads - thus they can have a great international feed-back on their music and effectively TEST their music on the international music market.

If the music sells well digitally and the band is touring a lot it would make sense to start a radio campaign and make the CD available at retail shops.

Today almost 40% of the turn over in music business is generated by digital downloads and the tendency is moving up every year with a rapid progression. We are convinced that digital delivery of music is definitely the future of music business.

Distribution options: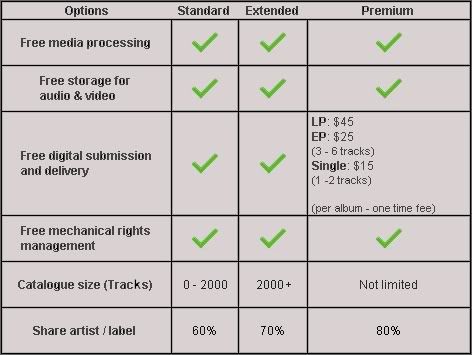 The Standard option is specifically tailored for labels and producers with small music catalogues. This option is only applicable if SILVERNOISE covers all online shops and teritories, no exclusions.

The Extended option is aimed at labels and producers with medium and large music catalogues.

The Premium option is for labels which are holding in their hands the next big hit, feel free to choose it for a premium share distribution.

Artist Promotion:
We can prepare for your band a professional press kit (also an electronic one) and get your music reviewed by hundreds of music editors worldwide. We deliver music to the best regional FM- and hundreds of licensed international Internet radio stations.

Publicity and airplay is what your music needs in order to sell good and we can arrange this for you. It is very important to know where to send your music - according to the music style you play. A lot of bands make their promotion on their own. And that way they tend to do numerous mistakes - for example there is no use to send music for a review to a rock editor or a Metal Music Magazine if your band plays soul or electronic.

Music marketing research is crucial for every music promotion and that's our job.

Check out our Promotion services.

SILVERNOISE NETWORK - THE LIST OF OUR PARTNERS

REGIONS:

AFRICA:

SOUTH AFRICA
Musica, CelC , Virgin , MTN.

NORTH AMERICA:

CANADA
iTunes, eMusic , Napster , Puretracks, Yahoo Unlimited, iMesh.

USA
iTunes, eMusic , Napster , Rhapsody, MTV Urge , Zune , Yahoo Unlimited, AOL , iMesh, TarniusMusic, MusicGremlin, FYE , Cdigix, Synacor, Google Mobile, Puretracks , DJDownload, TrackItDown, Traxsource , BeatPort , AudioLunchBox, AmieStreet , IndieBurn , VoyMusic ,

SOUTH AMERICA:

BRASIL
iMusica, ABM.I , Americanas.com, Bemol , Bolsa de Mulher, BrTurbo , Companhia Athletica, Cidade , Deckpod, Gradiente, Hands , Huck_OO, iToc , Ligaki, MSN , Mondooi, Musical MPB, SOM Brasil , SOM Livre , Submorino, Ubbi , Vineyard Music, Yahoo Musica,

ASIA:

CAMBOGIA
SoundBuz

KOREA
SK Telecom, LGTelecom , KTF,

INDIA
SoundBuz,

INDONESIA
SoundBuz

JAPAN
iTunes, Napster, NTT Docomo, Softbank , KDDI , Listen Japan,

LAOS
SoundBuz

MALAISIA
SoundBuz

PHILIPPINES
SoundBuz

SINGAPOUR
SoundBuz

THAILAND
SoundBuz

VIETNAM
SoundBuz

EUROPE:

GERMANY
iTunes, Musicload, RTL New Media, Karlsberg , Coca Cola, Napster , Conrad, MSN , MTV , PackardBel, Tiscali, MusicBrigade, Samsung , BeatPort , DJTunes,

AUSTRIA
iTunes , MSN , MyCokeMusic, MusicBrigade,

BELGIUM
iTunes, MSN (Dutch), MSN (French), PackardBel (Dutch), PackardBel (French), MusicBrigade , La Médiathèque,

DENMARK
iTunes, MSN , CDSkiven, Ekstabladet, JylandsPosten, MediaMilkShake, MTV , Politiken, Mox , MusicBrigade,

SPAIN
iTunes, MSN , MTV , MusicBrigade,

FINLAND
iTunes, MSN , MediaMilkShake, MTV , NYT.FI, MusicBrigade.

FRANCE
iTunes, VirginMega, Europe2 , Pepsi , MCM , Carefour (BooStore), TX (Traxdata) , AOL , L'Internaute, Club Internet, VirginMega Clasique, FnacMusic , FnacMobile , e-Compil , NRJCokeMusic, Cdiscount , Alapage , Alice, Cora, France Loisirs, M6 , MSN, MTV , PackardBel, Système U , Starzik , Fre , Orange, SFRMusic, Waxx Music, M6 , MSN Music Videos, Samsung , MusicMe , 4Deejays, Madnug, 121 Musicstore.

GREECE
iTunes, Virgin Greece (Vivere),

IRLAND
iTunes , Eircom , MyCokeMusic, MusicBrigade,

ITALY
iTunes, iMusic , MusicShop, Media WorldNet Music, MSN , MTV , Radio 105, 105 Clasics, Radio Montecarlo, United Music Store, Tiscali.

LUXEMBOURG
iTunes, MusicBrigade,

NORWAY
MSN, iTunes, Buls Pres, Ewait.no , MediaMilkShake, Mox , MTV , SOL , TV2 , QXL , MusicBrigade,

HOLLAND
iTunes, MSN , MTV , Planet Internet, Tiscali, MusicBrigade

POLAND
Onet Plejer,

PORTUGAL
Sapo pt.com, iTunes , MusicBrigade,

SLOVENIA
Planet9

SWEDEN
Home Entertainment, MSN , Bengans, Blip , Buls Pres, DigiNow , Drela , DVD.se, Goteborg Posten, MediaMilkShake , Mox , MTV , PlayStop, Poplife, Skivhugget, Source, SmartTunes.se, Ahlens, MusicBrigade,

SWITZERLAND
iTunes, Orange, i-mMigros, MSN

TURKEY
Turkcel

UK
iTunes, eMusic , Napster , HMV , Virgin Digital, Samsung , Orange , O2 , Vodafone, T-Mobile , 3 , Dada, Sony PSP , BT Vision , Google Mobile , TuneTribe , JunoDownloads , DJDownload , TrackItDown , BeatPort , XPresBeats, CDWow , GWR, MSN , MTV , MyCokeMusic, NTL Broadband, NTL World , Oxfam Big NoiseMusic, PackardBel , Tiscali, MusicBrigade,

AUSTRALIA
iTunes, NineMSN, Vodafone, DestraMusic, MP3.com.au , TheScene.com.au, Tranzfusion.com , JB Hi-Fi , Channel GO, SoundBuz , DJDownload, TrackItDown,

NEW ZEALAND
iTunes , Coke Tunes, Vodafone.